The beginnings of the fortification
Duke George the Bearded had the Sovereign Fortification built in Dresden from 1519 to 1529. Also, the four bastions and the first Brick Gate emerged in that construction stage. As early as in 1545, his nephew Maurice armed the facility against novel cannons and firearms. The monument for Maurice, to be seen on the outer wall of the Virgin Bastion today, was created by Hans Walther in 1553. After the new facility had been completed in 1555 under the supervision of Caspar Voigt von Wierandt, the Zeughaus was built. Maurice's brother Augustus and his son Christian I turned the fortified facility with the Virgin Bastion and the casemates into the Fortress of "New-Dresden".
Bruehl's Private Garden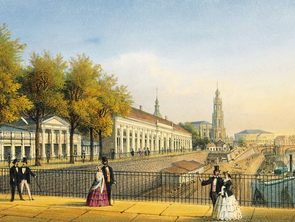 After Augustus the Strong's death, his son, Frederick Augustus II did not only assume the business of ruling, but also took over Heinrich Count von Bruehl as his closest advisor. In 1739, he made the old fortification on the Elbe River a gift to the Count. Subsequently, Bruehl had a palace, a belvedere, pavilions, a gallery and gardens built on it. The yards of the bastion were backfilled. Visiting the terrace was reserved for noble guests. Except for the gardens and the Sekundogenitur that served Bruehl as a library none of Bruehl's buildings have been preserved.
Conquest by the public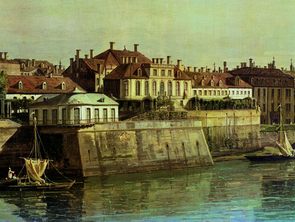 Having been Napoleon's ally, the Saxon King was denied rulership in 1814 after the Peoples' Battle of Leipzig. In Dresden, the allied Russian, Austrian, Prussian and Swedish troops appointed Count Nikolay Grigoryevich Repnin-Volkonsky as General Governor, who opened Bruehl's Terrace and the Grand Garden to the general public. As an indication for such public access, he had the large flight of stairs built by Gottlob Friedrich Thormeyer. Between 1868 and 1871, the four groups of figures known as »Daytimes« by Johannes Schilling were put up at the flight of stairs to the terrace. Also the Rietschel monument and the monument by Johannes Schilling to commemorate Gottfried Semper, the building of the Academy of Arts and of the Lipsius Building, were erected in the 19th century, at the same time when the Zeughaus was turned into the Albertinum and Knoeffel's buildings were demolished.
Bruehl's Terrace today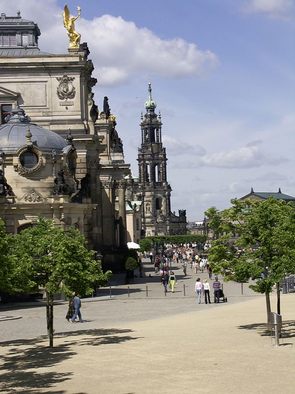 After the destruction of Bruehl's Terrace in the 1945 air raids, the buildings were restored again. From 1990, the debris was removed from the Renaissance vaults in the casemates. Since 1993, Bruehl's Terrace has been part of the inventory of the castle operations Schlossbetrieb Schlösser und Gärten Dresden.