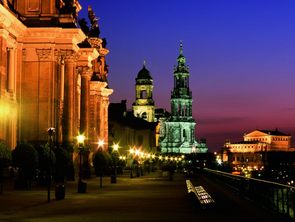 Accommodated on top of former military grounds, i.e. the rampart towards the Elbe River of what used to be the fortification of the town, Bruehl's Terrace is a very special landscaping gem.
The terrace owes its name to Heinrich Count von Bruehl, Cabinet Minister under Frederick Augustus II. Having received parts of it as a gift from his elector in 1739, he had it redesigned in the years thereafter by architect Johann Christoph Knoeffel who turned it into a closed-off area left to the noble society. Its appearance has changed over time. The only architectural witness dating from the time of redesign under the Count von Bruehl is the building of the Sekundogenitur, which used to be the Count's library, whose extensive stock of books of about 62,000 volumes was certainly comparable to those of the university libraries of Leipzig or Wittenberg.
Today, the terrace with its unique ensemble of landscaping art and architecture is one of the most important promenades of the town at the Elbe River, as its 19th century notion as the »Balcony of Europe« has not lost any of its current relevance.
Opening hours
From 09.01.2017 Dresden Fortress is closed until new opening.
Subject to modifications.
Ticket rates
Subject to modifications.